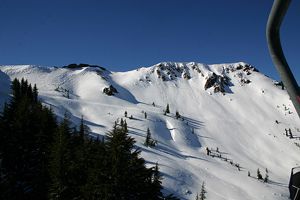 Who: 24-year-old Annalise Kjolhede
Where: Wolverine Bowl, Alpine Meadows, Lake Tahoe
Her mistake: Bad luck
What happened: A woman was skiing with friends at Alpine Meadows before the resort was set to open in a couple weeks. They hiked to the top of Wolverine Bowl. Two of the members skied down to the base and watched Annalise start her run. Annalise fell and slid into a submerged rock – striking the side of her face. She was wearing a helmet. After she lay motionless, her friends hiked up to help. Two other EMT trained skiers also assisted.
One friend had issues with cell phone service but eventually got through to 911. Luckily, the ski patrol was conducting drills at the base of the mountain and arrived to the scene within 20-25 minutes. The woman was transported to the base of the mountain and airlifted to a nearby hospital where she eventually died.
Sad day in Tahoe. Too early in the season for this stuff to be happening.
Read the story here.