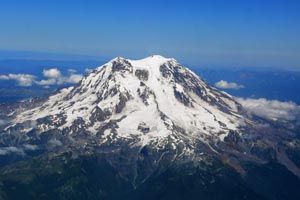 Who: 21-year-old Derek Tyndall and 20-year-old Thomas Dale
Where: Mt. Rainier, Washington
Their mistake: Not sure if they checked the weather or if it was just angry mountain Gods
What happened: Two snowboarders were out for a day of shredding Mt. Rainier when they got hit by whiteout conditions. When they realized they would not be able to make it down the mountain, they called 911 to tell rescuers they were stranded and they dug out a snow cave for protection.
Rescuers were sent out to save the pair and were forced to "swim" through the 3-4 feet of fresh pow pow. Rescuers made visual contact with the snowboarders but were unable to reach them due to weather and avalanche conditions.
After two nights stranded on the mountain, rescuers reached the snowboarders who were in good condition – not even suffering from frostbite or any other injuries. The snowboarders were able to snowshoe under their own power down to the trailhead. It is unclear why the snowboarders didn't shred the fresh gnar.
Read the story here.